History Storytime for children told by 7 year old Sophie, 5 year old Ellie and their Daddy. Exciting history stories of Knights, Tudors, Romans, World Wars, Revolutions, Explorers, Scientists and Sports. Hear amazing history stories of animals, stirring historical stories of love and betrayal, and of strong women and how they changed history. Real life narrative history as it should be told. Won Silver in the BritPodAwards. Helps support learning history for the National Curriculum with Key Stage 1 (KS1) and Key Stage 2 (KS2) and for all Elementary ages - Grades K-5. Great for supporting parents with homeschooling. Valued by teachers, enjoyed by parents, loved by kids.
Episodes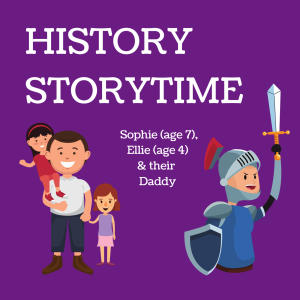 Sunday May 03, 2020
Sunday May 03, 2020
Sophie and Ellie tell the story of VE Day (V-E Day) celebrations 75 years ago.
They are missing out this year because of the Coronavirus. They had been planning a VE Day street party. But now they are trapped at home. So with their Daddy they tell the story of the VE Day celebrations. They learn how awful World War 2 had been. They understand just how relieved ordinary people were to put it all behind them. They get swept up in the VE Day Party atmosphere of 75 years ago.
Much of the story is told through the actual words of Princess Elizabeth, later Queen Elizabeth II. As a young woman she partied incognito on the streets of London and later said that VE Day was "the most memorable day of my life".
We also hear the actual words of the Winston Churchill, British Prime Minister, and of President Truman, the President of the United States of America. They both marked VE Day with radio addresses to their peoples.
- The dying days of the war
- Vicious fighting as the Russians close in on Hitler's bunker
- Hitler kills himself
- The toughness of the home front for civilians
- Word leaks out about the precise date of VE day
- Churchill makes sure London has enough beer for a massive party on VE day
- Street parties, conga dancing and mass celebrations light up VE day
- Churchill gives a patriotic VE day address
- Princess Elizabeth sneak out of the Buckingham Palace to celebrate incognito with the crowds
- In her own words we follow Princess Elizabeth around London enjoying the VE Day partying with her
- We hear President Truman's sadness that President Roosevelt died and just missed VE day
If you liked this podcast you might like our episode on the Battle of Britain
https://www.historystorytime.com/e/ww2-the-battle-of-britain-and-winston-churchill/
And you might like our episode on Animals in History which has other stories from World War 2 in it.
https://www.historystorytime.com/e/animals-in-history-dogs-cats-and-pigeons/
This episode offers a great way to introduce children to the importance of VE day in our national memory. We were supposed to be having a national holiday and a series of events to mark it. This episode can help with your home learning around this important topic.
Comments
(1)
To leave or reply to comments, please download free Podbean or