History Storytime for children told by 7 year old Sophie, 5 year old Ellie and their Daddy. Exciting history stories of Knights, Tudors, Romans, World Wars, Revolutions, Explorers, Scientists and Sports. Hear amazing history stories of animals, stirring historical stories of love and betrayal, and of strong women and how they changed history. Real life narrative history as it should be told. Won Silver in the BritPodAwards. Helps support learning history for the National Curriculum with Key Stage 1 (KS1) and Key Stage 2 (KS2) and for all Elementary ages - Grades K-5. Great for supporting parents with homeschooling. Valued by teachers, enjoyed by parents, loved by kids.
Episodes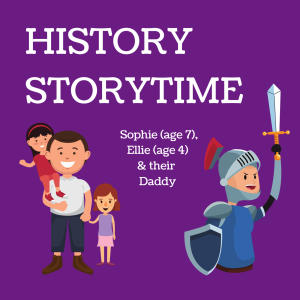 Monday Jan 24, 2022
Monday Jan 24, 2022
Sophie (age 8) and Ellie (age 6) tell the story of Genghis Khan.
Genghis Khan was born 800 years ago in Mongolia. Except he was not called Genghis Khan then. His name was Temujin. He was the son of a chief of a small tribe. His father was poisoned and Temujin and his tribe had to flee. Life was hard growing up. Already though, Temujin was proving to be a fierce fighter. When he brother stole some food, Temujin killed him.


Then Temujin married a wife from another tribe called Borte. Together the tribes were stronger. However, a different tribe attacked them. They kidnapped Borte. Timojen asked another tribe to help and attacked the tribe who had kidnapped Borte. He killed them and rescued her. Now Timujin was getting powerful.


However, people in his tribe disagreed over who should have the important jobs. Timujin thought that people should have the jobs if they would be good at them. Some people thought that only rich nobles should have the best jobs. Those people were lead by a man called Jamukha. The tribe split in two and war between Timujin and Jamukha started.


Jamulkha won the first battle and burned Timujin's generals alive. Timujin escaped and promised he would never lose a battle again. In the next battle Timujin had some sneaky tricks up his sleeve and he defeated and later killed Jamulkha.


Now Timojin was the most powerful man in Mongolia. He was in charge of all the tribes. They gave his the title "Genghis Khan" which meant "Ruler of everyone".


Genghis Khan now decided to attack the powerful Chinese Empire. After a long siege he attacked and conquered the capital which we now call Beijing. Then he turned his army west. He conquered every country until he got to Eastern Europe. Then he turned back to conquer the rest of China.


After 25 years of rule he died. His body was buried in secret.


Nowadays many people think of him as a bloodthirsty conqueror. However, he was more than that. He married so many people and had so many children that many ordinary people today are descended from him. He did not mind what religion you were, what your skin colour was or whether you were rich or poor. He only rewarded people and gave them good jobs if they deserved it. Finally, he made the roads safe for trading. He allowed a route between the East and the West called the Silk Road. People took amazing inventions from China to Europe – like the compass, paper and gunpowder.


PATRONS' CLUB
If you like this episode you might like to join our Patrons' Club. We have exclusive episodes there and next week are telling the history of the Soviet Union. You can join at www.patreon.com/historystorytime
Comments
(1)
To leave or reply to comments, please download free Podbean or